Thank you to the participants of our annual parade!
This page is for Solano Avenue Guests. Click here if you are a participant or you would like to register.
The parade begins at ten am and travels westbound from Colusa (in Berkeley) to Masonic (in Albany).
The duration is usually one hour.
2018 (09/09/18) – Green or Yellow

2017 (09/10/17) – Pink
Gail Drulis, Albany YMCA – Grand Marshal (Serving the Albany YMCA since 1982)
First place: Guanyin Citta, Inc.
Second place: The El Cerrito Preschool Cooperative
Third place: Berkeley Chess School
Fourth place: Albany Preschool
Fifth place: Cornell School Chinese After-School Program (AUSD)
Sixth place: School of the Madeleine MAD Band
Honorable mentions go to: Albany Armada Aquatics; Children's Community Center; Dogs for Diabetics; Girl Scouts of Albany – Berkeley and TuTu School Berkeley (presented alphabetically)
2016 (09/11/16) – Orange
Denise Grimshaw, Arrow Glass – Grand Marshal (serving Albany since 1949)
First place: Albany Preschool
Second place: The El Cerrito Preschool Cooperative and the School of the Madeleine (a tie)
Third place: Head Over Heels Athletic Arts
Honorable mentions go to: Albany High School Cheerleaders; Albany Armada Aquatics; Berkeley Chess School; Cornell School Chinese After-School Program; Montessori Family School and the Unitarian Universalist Church of Berkeley
2015 (09/13/15) – Purple
Janet (Jan) Snidow, Mane Alley Salon – Grand Marshal (celebrating 42 years on Solano Avenue)
First place: The El Cerrito Preschool Cooperative
Second place: School of the Madeleine MAD Band
Third place: Montessori Family School
Honorable mentions go to: Albany High School Cheerleaders; Albany Preschool; Berkeley High School; Brasarte and Dogs for Diabetics
2014 (09/14/14) – Blue
Henry Pruyn, Solano Cleaning Center – Grand Marshal
First Place: The El Cerrito Preschool Cooperative
Second place: Berkeley Ballet Theatre
Third place is a two-way tie between: Berkeley Playhouse and the El Cerrito High School Cheerleaders
Honorable mention goes to the Friends of the Berkeley Tuollomne Camp
2013 (09/08/13) – Red
The Accornero Family, Oaks Jewelers – Grand Marshal
First Place: The El Cerrito Preschool Cooperative
Second Place: Berkeley Unified School District Book Cart Drill Team
Third Place: is a three-way tie between: Berkeley Juggling and Uni-cycling Cooperative; Casa Oaxaca Dancers and Head Over Heels Athletic Arts
2012 (09/09/12):
Tom Taylor, Artist, Art Thou Graphics – Grand Marshal
First Place: The El Cerrito Preschool Cooperative
Second Place: is a tie between the Albany Preschool and Crestmont School
Third Place: is a tie between: Danza Azteca, Hot Pink Feathers and the El Cerrito High School Cheerleaders
2011 (09/11/11):
Sylvia McGlaughlan, San Francisco Bay's "Best Friend" – Grand Marshal
First Place: is a "tie" between Albany Preschool and the El Cerrito Preschool Cooperative
Second Place: Berkeley Historical Society
Third Place: Berkeley Ballet Theater
2010 (09/12/10):
Noah Alper, Noah's Bagels – Grand Marshal
First Place: El Cerrito Preschool Cooperative
Second Place: Danceversity
Third Place: is a "tie" between the Albany Preschool and Crestmont School
2009 (09/13/10):
First Place: Berkeley Pools Campaign (berkeleypools.org)
Second Place: El Cerrito Preschool Cooperative
Third Place: Brasarte
Prizes include (and are not limited to): First place $100 in SAA Gift Cards; Second Place $50 in SAA Gift Cards; Third Place $50.00 in SAA Gift Cards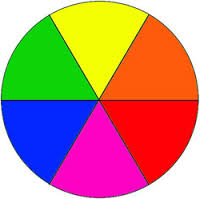 (This six-color wheel represents the colors we intend to cycle through)